Welcome to


Al-Sharif Arabians

We are an Arabian horse breeding farm located in North East, Maryland. We concentrate on the highest quality proven bloodlines to produce beautiful Arabians with athletic ability. We are very proud of our black Arabians and are thrilled with our gorgeous homozygous black stallion who was named the 2006 East Coast Champion Stallion!

We invite you to learn more about our horses by clicking on the links to see additional information including pictures and extended pedigrees on Our Stallion, Our Mares, Sale Horses, or our Photo Gallery which has pictures of our horses through the years.



In 2012, our pure Polish mare MS Catalyna had a gorgeous black colt by Midnight Enchantr. Our pinto Saddlebred mare Winters Habanfyre had a BEAUTIFULLY marked black/white pinto filly, also by Midnight Enchantr.

Here are pictures:
2012 Black Arabian Colt
2012 Black/White Half-Arabian Filly

Both are available for sale; if you would like more information about them, please contact us.


Over the years, we have purchased and bred mares of the highest quality and proven bloodlines. Would you like to create your own gorgegous foal, utilizing one of our mares? Check out the details of our Mare Breeding Lease!



UPDATE on one of our sold horses Ebriz Rakkas+
He is the 2010 Region 15 Reserve Champion Training Level Dressage AATR winner!
and he has earned his Legion of Honor! CONGRATULATIONS!


ASA Cameo Rose tied for FIRST place at a 50 mile endurance race in New Jersey!
WW Black Squeeze and Midnight Enchantr
Beautiful mother...beautiful son!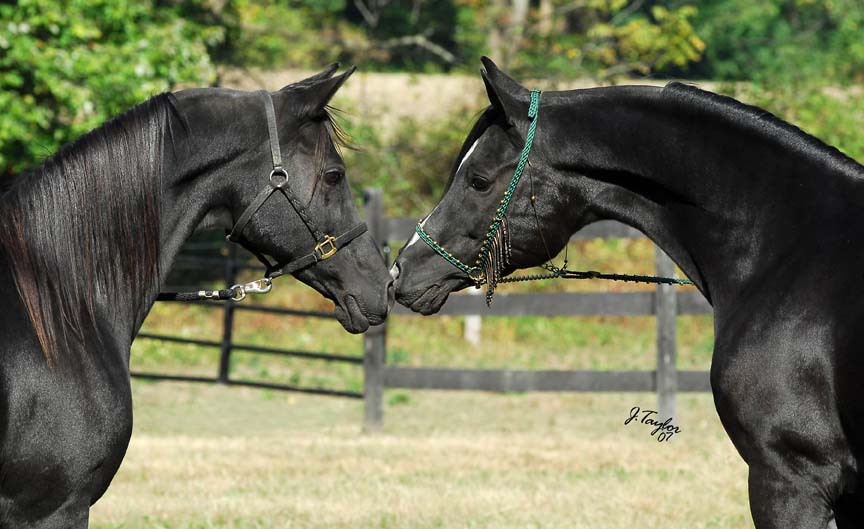 Feel free to contact us with any questions you may have
or to request additional information on any of our horses.
Al-Sharif Arabians
located in North East, MD 21901
Jim & Sandy Taylor
(410) 398-0769

asarabians@hotmail.com
================================================
Check out this site to learn about our
American Mastiffs
This site was last modified 07/05/2013