Al-Sharif Arabians

~ Horses we've SOLD


Ebriz Rakkas +/



1998 Chestnut Arabian Gelding

(*Prosit x WW Black Squeeze)

See his extended pedigree.
Briz is doing wonderfully with his new owner!
Scroll down to read updates!


NOTE! Briz has earned his "Legion of Supreme Honor" title. CONGRATULATIONS!


Update received late 2013:

" Hi Sandy,

Congrats on breeding a 4-time US Sport Horse National Top 10 winner.

2013 Top Ten First Level Open
2013 Top Ten First Level AAOTR
2013 Top Ten First Level ATR
2013 Top Ten Training Level Open

What an amazing year we are having!

Sharon "

Update received August 2013:

"Briz and I are East Coast Res Champion Training and First Level ATR in 2 very large classes.

I just love my boy!




Update received September 2013:


"Briz and I are First Level Open Top 10 "

Update received 2011:

" Hi Sandy,

What a year Briz and I had. We have been showing Dressage Training Level and First Level and boy is he good at it! We started the year off at the Mason Dixon show with our first 70% in training Level. We won Region 15 Training Level ATR Champion and Top five First Level ATR. We Qualified for Sport Horse National in Dressage training and first level. In September we made the trip to Lexington, Kentucky; Briz's best finish was 12th out of 53 horses. We are going to try again for a top 10 in 2013.

Briz also earned his Supreme Legion of Honor as well as the USDF First Level certificate. I also earned my USDF First Level certificate with Briz. We topped the year off by wining Reserve Champion USEF Region 15 Training Level Amateur and Reserve Champion First Level Amateur.

Sharon "

Update received July 2010:

"Hi Sandy,

We just got back from Region 15 Championships. Ebriz is the 2010 Region 15 Reserve Champion Training Level Dressage AATR winner! He has also earned his Legion of Honor. Thanks for breeding such an awesome horse!

Sharon"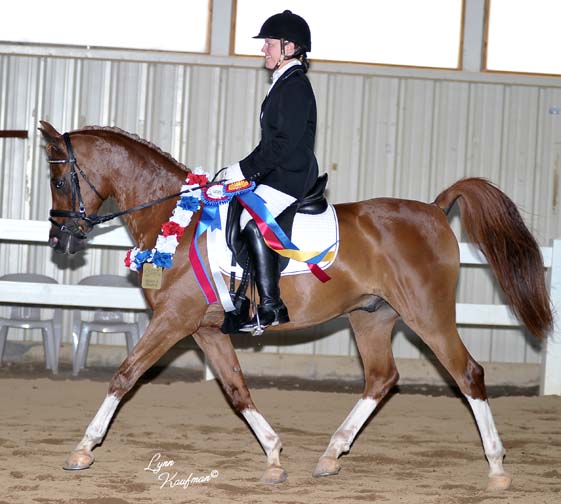 Update received early 2009:
"Hi Sandy,

2008 was another very successful show season. Ebriz qualified for Region 15 and 16 in Halter, Hunter Pleasure, English Show Hack, Native Costume and Training Level Dressage. Some of the highlights are winning Training Level Dressage Test 2 and Reserve Champion Hunter over fences 18" at the PAHA Games. Reserve Champion Native Costume and Reserve Champion Halter at Mason Dixon. Winning the Native Costume class at the Elmira Charity Show. Ebriz finished the year winning Champion Gelding Halter, Champion Native Costume, Champion Adult Showmanship, 4th Hunter Adult and 6th Hunter Hack at the EAAHSC Year end Banquet. What a versatile horse!

2009 I have decided to concentrate on Dressage. I am working toward earning the USDF training level award for Horse and Rider as well as the AHA Legion of Honor. I will keep you posted.

Sharon"

Update received May 2007:

"Hi Sandy,

I took Briz to the Dillsburg A show this past weekend and he is now qualified for East Coast 2008. He won the Gelding Halter class, 2nd and Reserve Champion in Show Hack (our first time in this class and he loved it), 2nd in Native Costume. We also scored a 63.475 in Dressage Training Level 1 - a personal high for us. We only need 1 more score over 60 and he will be qualified. He also was 3rd in Sporthorse in hand and won a few ribbons in Hunter Pleasure. I am planning on going to East Coast in 2008 because I will be away this year and this will give me more time to qualify for hunter under saddle, sport horse under saddle and sport horse in hand.&nbs; He is such a good boy he always gives me 100% even if it is his first time in the division.

Sharon"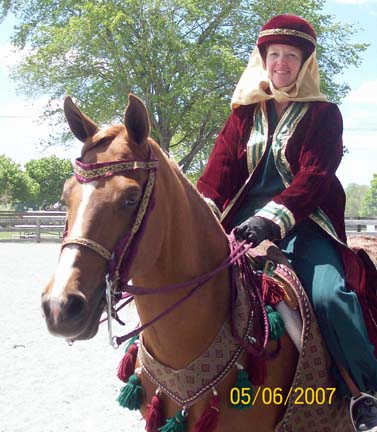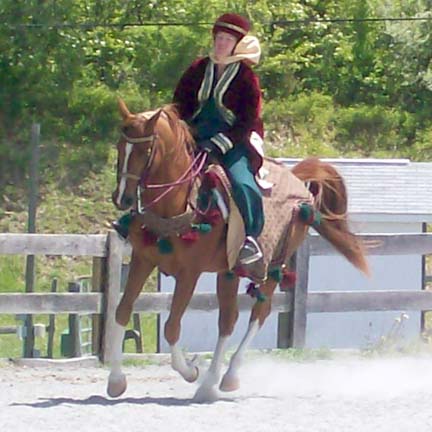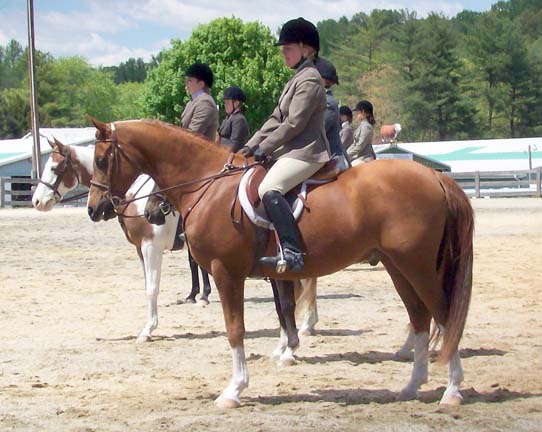 Update received July 2006:
"This past weekend we took Ebriz to the EAAHSC show at Dillsburg. He was Purebred Gelding champion both days, two seconds in showmanship, a 1st and a 2nd in Native costume, 1st in english pleasure go as you please with me. I also let Erin (my 14 year old friend who is looking for an Arabian) show Ebriz. She won a 2nd and 4th in Showmanship, a 1st and a 2nd in hunter pleasure jr. to ride, and a 4th and 5th in hunter pleasure rookie horse rider. Ebriz was so good for Erin. He is so cute going around the ring I don't usually get to see him go. We now need to get him a little more consistent with his head set and I think he will be a real contender at the big show.

I am planning on going to KILE show Sept. 30 to finish qualifying Ebriz for East Cost 2007. He is already qualified Gelding halter AOTH and Country English Pleasure I would like to qualify him for Native Costume and Hunter Pleasure AAOTR. I will also show him in Gelding Halter and maybe he will qualify for Open Geldings. He is such a fun horse."

Update received February 2005:
"I just thought I would give you an update on Briz. He was Champion Halter horse for the Triangle series show for 2004. He also won a couple of High Point awards from both EAAHSC and PAHA.

Now on to 2005, I have started jumping lessons with Briz. He thinks jumping is more fun than life itself. He will jump anything. I am also thinking of trying Dressage with him and of course halter and hunter pleasure. He is so athletic I think he can excel at anything he wants to. I will be showing him at the Triangle shows and maybe the EAAHSC. I will have to see how the schedules run. I will let you know."
| | |
| --- | --- |
| "I know it has been a long time but I thought I would let you know how Briz is doing. He is now 6 and has sure grown up to be an awesome horse. I show him in Halter and as a Hunter horse. He is qualified for Region 15 in Halter, Region 16 in Hunter Pleasure and East Coast for both. He is really a nice horse to work with, everyone loves him." | |
We're excited to hear that Briz is doing so well. We look forward to cheering him on at the shows!